Gustavus Authors
Black And Bold
Our Price:

$17.50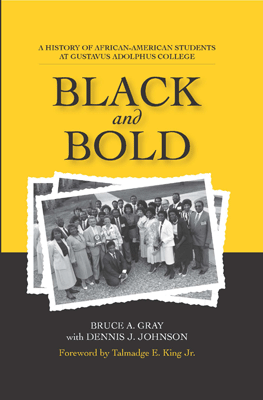 enlarge image
Product Description
Bruce Gray's professional career at Gustavus Adolphus College has spanned nearly 40 years. Following his retirement in 1997, he continued to be involved at the College part time for another decade, and is now an active volunteer. Throughout the years, he has worn many hats. His lasting contribution to Gustavus, however, was his heavy involvement in the recruitment of African-American students to this nearly all-white school, and what he and others did to encourage, support and retain these students.
Gray chronicles President Edgar M. Carlson's vision and plan for making the recruitment of blacks a centerpiece of Gustavus' contribution to the civil rights struggles of the '60s and '70s. Gray takes us from the small towns and cities of the South to the urban centers of the North where he and Owen Samuelson provided sound reasons and convinced students of color to make the bold decision to come to a small college in Saint Peter, Minnesota.
This book, an important contribution to the sesquicentennial history of Gustavus Adolphus College, salutes those students while it tells of ther trials, tribulations and triumphs as they pursued their degrees. Through Gray, we hear their voices and discover what the students accomplished once they left The Hill. Many of them chose this opportunity to declare, "Bruce and Sue Gray were the best friends and mentors that we could have had."
ISBN 0985842601Binding Hardback